PJ - Raspberry Pi to JAMMA Adapter
Regular price
Sale price
$68.00 USD
Unit price
per
Sale
Sold out
The Raspberry Pi to JAMMA is an adapter that will allow your Raspberry Pi to connect to a JAMMA compatible arcade cabinet for a great multi-game emulation experience.

Works will all Raspberry Pi boards with the 40 pin GPIO Interface. Does not work with original Pi 1 Model A, the only Pi board with the 32 pin GPIO header.

Inputs / Outputs

- 40 pin Raspberry GPIO Interface
- Fully compliant JAMMA Cabinet Interface
- 4 pin EXT Controls header (future expansion)
- 6 Pin Video Sync header (all possible sync options)
Pinout

Standard JAMMA Interface
12 pin SF2 style Kick Harness
Dimensions

Board Size: 100mm x 112mm
Weight: 180g
Shipping & Returns

Standard 30 days return policy. Buyer pays for return shipping. See Return policy page for more information.
Share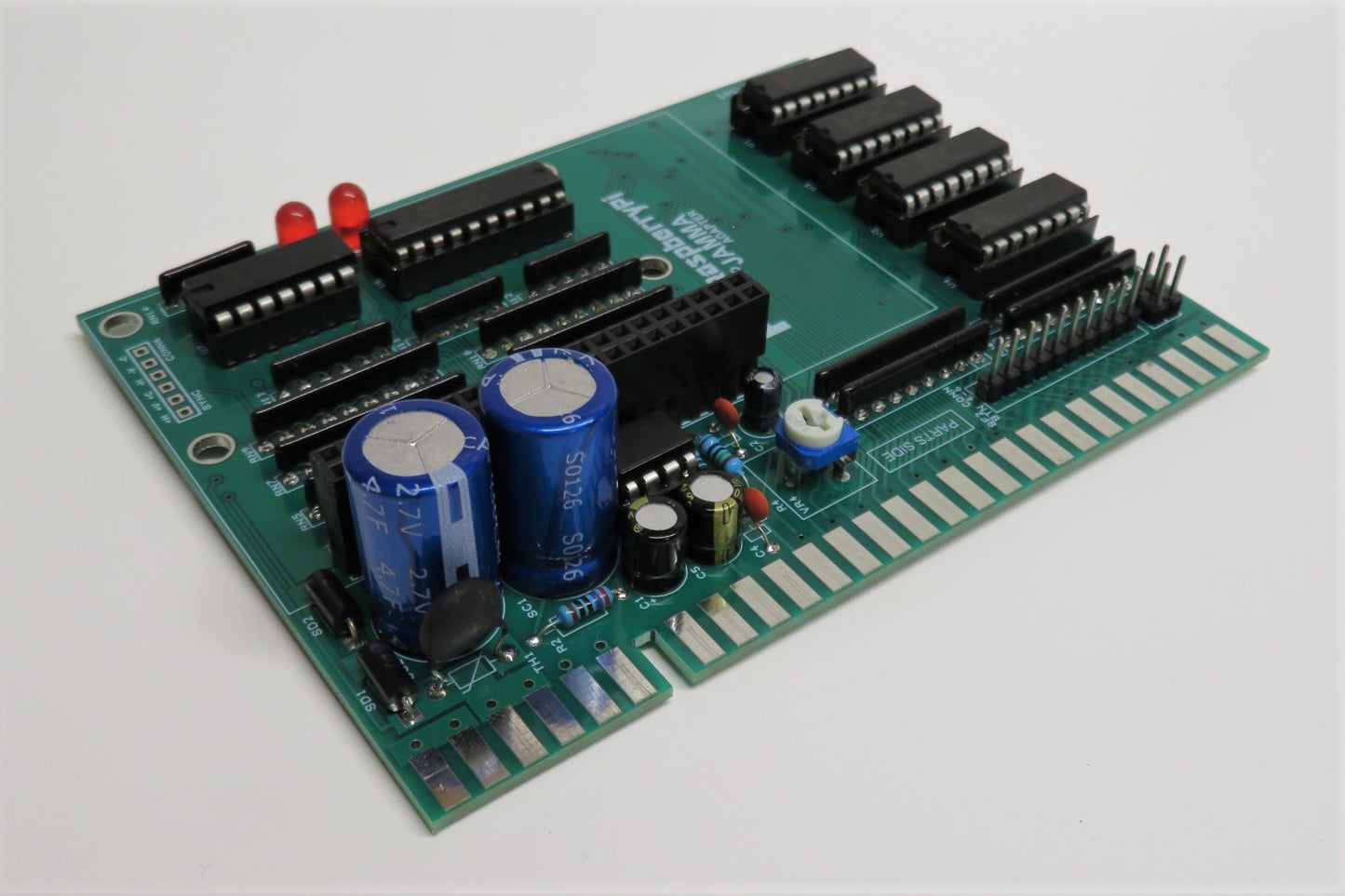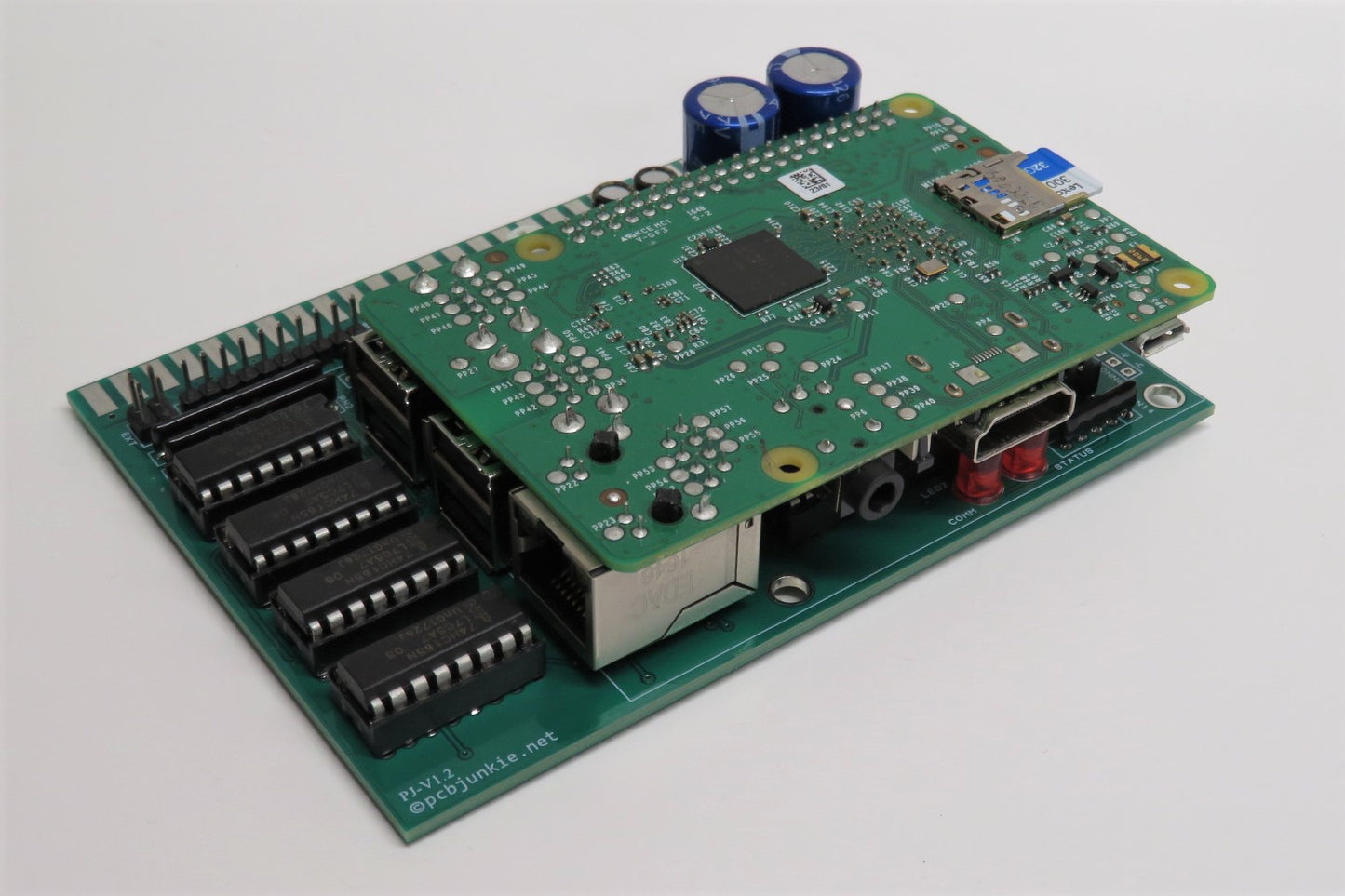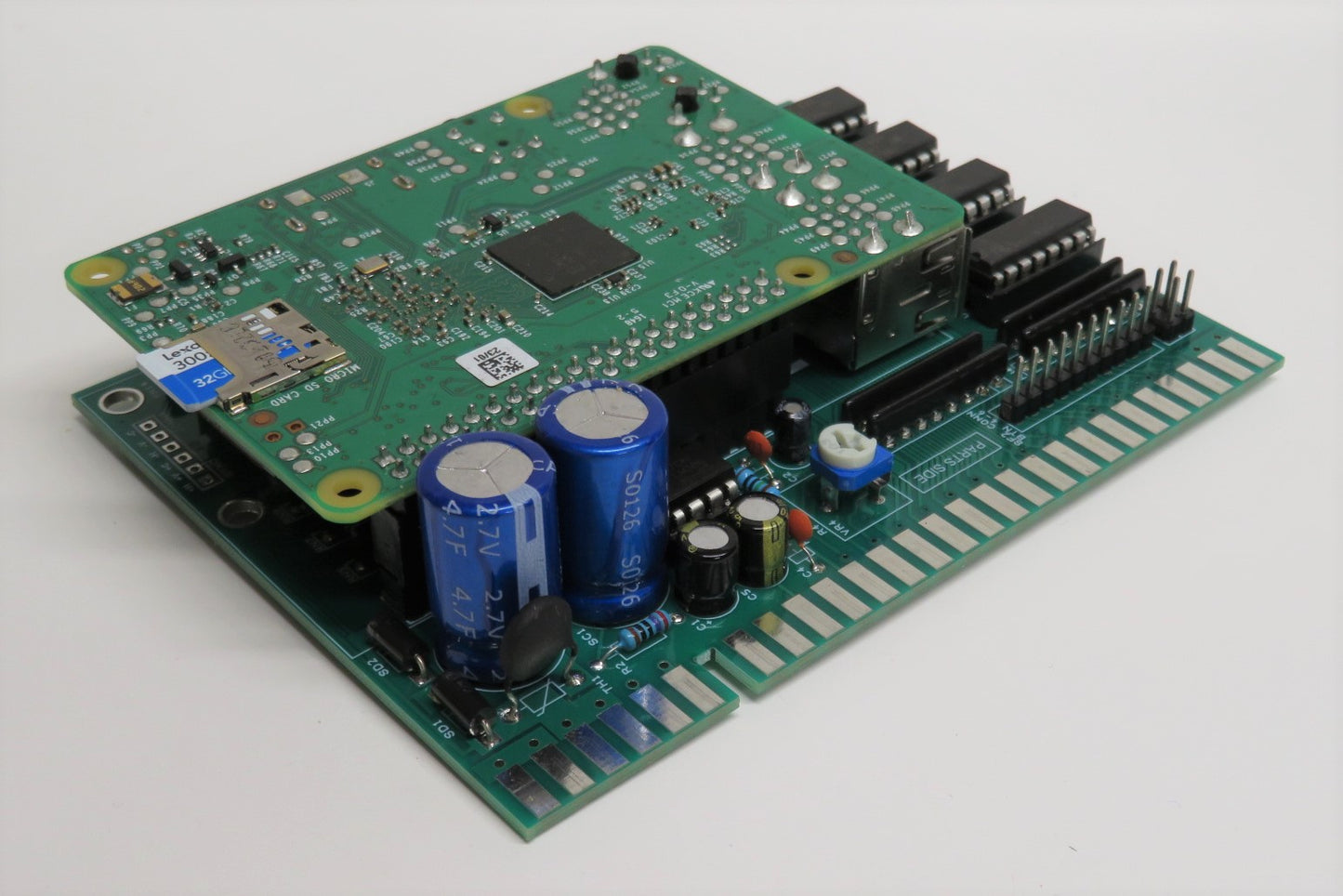 PJ Features and Additional Information
Important: This adapter does not come with a raspberry Pi unit. You will need to provide your own.
Here's a quick summary of PJ's features:
Inexpensive.
Works on all Pi devices with a 40 pin header (no Pi 1 A models unfortunately)
Low latency control hardware – joystick and button status updates each frame.
Straight, one step digital to analog, video and sound conversion for a clean picture and sound.
Native video resolution – no scaling or shimmering artifacts with standard res games.
Zero latency video – one step digital to analog conversion, no scaler buffering required. 
Power monitoring and reporting.
Auto shutdown on brownout (with a super capacitor bank) will not chew up your SD card. Just turn off your arcade machine and walk away.
Images for major Retropie releases will be provided.
Opensource drivers and configuration for more customization.
Plugs into JAMMA with SF2 kick harness support.
All IO done through GPIO header. Nice and clean with no messy wires.
Old skool, through hole design with IC sockets for easy repair and troubleshooting.
Currently, three distinct images are provided for this adapter. One, multi system image based on RetroPie, and 2 minimalist images with AdvanceMame, one of which is intended to behave like a single arcade PCB, and the one with a minimalist launcher.
Other linux images can be used as long as the provided drivers are installed and the system is configured to output video and sound through the proper interface.
For images, operation instructions, recommended setups, drivers, troubleshooting procedures, and more information on this adapter, please see the project page at:
http://pcbjunkie.net/index.php/raspberry-pi-to-jamma-adapter/
RetroPie Navigation
System Selection Menu

Standard Retropie system selection menu. This can be changed with a different theme and is which is configurable as well.

Game Selection

Game Selection screen. Here we're looking at Game Gear games.

Retropie Configuration Menu

This is the default config screen in the Retropie images.
Emulation Screenshots
Gradius III (SNES)

Actual screenshot taken from an arcade cabinet running the PJ Adapter. This little thumbnail doesn't do it justice.

Wonderboy (MAME)

What a great game. No pixel interpolation means sharp video without any scroll shimmer.

Sonic 2 (Genesis)

A classic. This game looks absolutely stunning in RGB. The pic taken of the game in action on a CRT monitor, just doesn't come close.